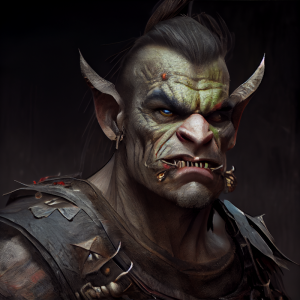 Orc
Description
Orcs are from 5.5 to 6 feet tall, with females being 6 inches shorter. They live in tribal societies and band together to hunt and raid. Orcs are in a constant state of war with most other races, since they feel the need to expand their territory and power constantly. They take great pride in battle experience and will fight whenever possible.
Orcs vary widely in appearance due to the fact that they frequently crossbreed with other species. They typically resemble primitive humans, with a stooped stance and low jutting forehead. They also have a pig-like snout instead of a nose, along with sharp canine teeth and short pointed ears that are almost wolf-like. Potential eye colors run the span of shades generally found in humans, but with reddish pupils characteristic of their infravision. They also have grey-green skin that is covered in dark, coarse hair.
They are usually not very good with their personal hygiene, and thus are dirty and smelly creatures. They hate direct sunlight, and suffer from the belief that other species are inferior to them, thinking that bullying and slavery is part of the natural order. They are not very dependable and are quick to take offense and break agreements. They are also skilled miners and excellent weaponsmiths, though these skills were probably developed because they are constantly at war with everyone else.
Warning: This is an advanced race, known as a PK-race. It imposes disadvantages on your gameplay: You will be banned in most cities and shunned across the realm. You start with your NOPK-flag turned off and other players may attack you because of your race. You may not, however, attack a player of a standard race without additional provocation.